I haven't written in a long time. Like everyone else, I have been set off balance by COVID and various life events. As a result, I am not in a very Christmas-y mood this year. Ok, so maybe I am not really ever in a Christmas-y mood. I am not into Hallmark movies (sorry ladies) or many Christmas songs. The whole thing is just a little garish to me, a little like looking at a bright neon light for too long. It tends to make me squint. Don't get me wrong, I don't hate Christmas; it just seems to get hijacked by too many rounds of Jingle Bells and excessive shopping.
I read on various news outlets this week that what astronomists have called the "Christmas Star" will appear for the first time in 800 years on December 21, the Winter Solstice, the shortest and darkest day of the year. The conjunction of Jupiter and Saturn will make them appear as a single point of light. This is one theory for the "Christmas Star" or the Star of Bethlehem followed by the magi (wise men) to baby Jesus in Bethlehem.
After they had heard the king, they went on their way, and the star they had seen in the east went ahead of them until it stopped over the place where the child was. When they saw the star, they were overjoyed.

Matthew 2:9-10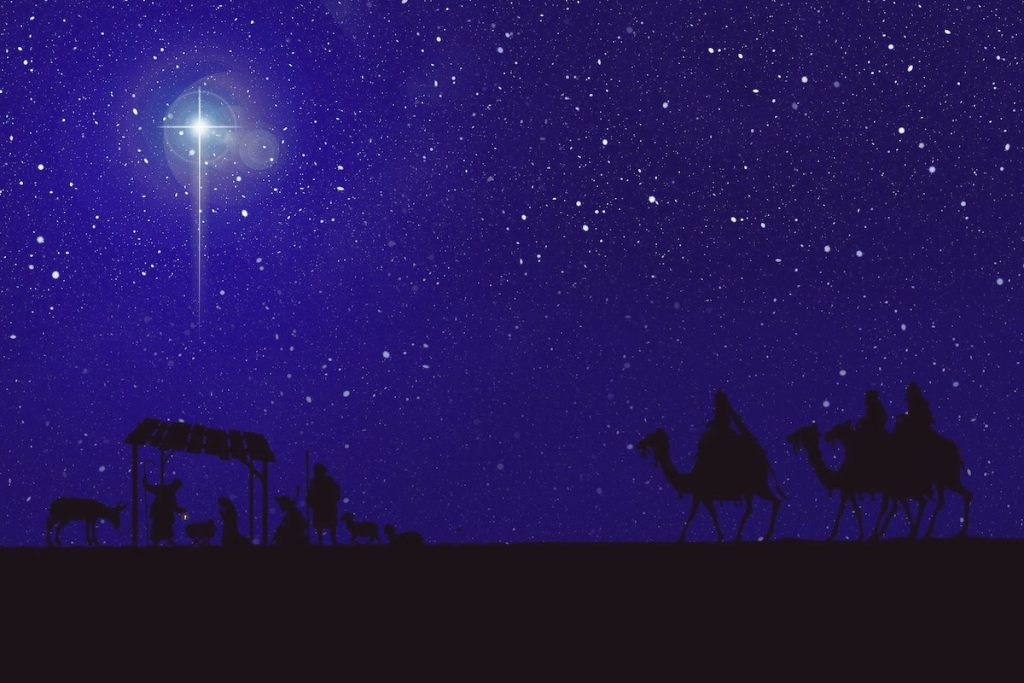 This year I need to be reminded of the real Christmas. Tinsel and Michel Bublé are not cutting it for even the most die-hard Christmas fans. With so many experiencing depression, fear, anger, hurt, fractured relationships, uncertainty, isolation, addiction, etc. and the world in chaos, we need the tinseled layers pulled away and the hope offered by a baby in a manger. I know this sounds cheesy. It sounds cheesy even to me as I wrote it because we are saturated by the message. By now, nearly everyone knows the story of Jesus' birth. Baby Jesus in a manger surrounded by barn animals has become a caricature of Christmas enjoyed along with Santa, Frosty, and Buddy the Elf. But look, Jesus is real and I need to be reminded that. He came into a broken and dark world to bring hope and peace and he is still doing it.
I know these concepts can be vague. It would be nice to practically know how he heals brokenness and brings hope and peace but I don't have specific answers. He does it individually with every person. The reality is, when it comes to faith, you believe before you see. With a tiny mustard seed of faith, you first believe and then you see more of the real Jesus and what he can do in your life. When you believe he exchanges the deep fear for hope and a peace that can't be shaken. Sure, there are days/seasons when you battle fear, anxiety, etc. but underneath is a solid hope and peace that is nothing short of miraculous.
I don't believe in coincidences. I believe the God of the universe aligned space and time to present the so-called "Christmas Star" on the shortest and darkest day of the year in a dark time in history to point the world to his son. I don't know if this conjunction is "the star" the magi followed or not. God could have created a special star just for Jesus if he wanted to. The point is, this is astronomy's explanation of the Christmas star and they are weighing in on various news outlets talking about it and about Jesus. The point is, God is still reaching out and speaking through creation to his most beloved creation to remind them of the hope and peace only he can give. He is elegantly presenting this rare sight at the right time giving the world another opportunity to look up and believe in his son. If we just reach out with shaky faith; past the tinsel, the garish lights, and the world's chaos and grab on to Jesus, he can bring hope and peace. He can heal brokenness and show the way forward. I am convinced that Jesus is our only hope and the light in this dark world. Merry Christmas.
For a child is born to us, a son is given to us. The government will rest on his shoulders. And he will be called: Wonderful Counselor, Mighty God, Everlasting Father, Prince of Peace.

~Isaiah 9:6