Mourning comes in all kinds of packages: death, divorce, friendship breakup, infertility etc. The bible says there is a time for it in each of our lives (Ecclesiastes 3:1-8). There are likely no words to describe the pain for those suffering the loss. Only those who have gone through it comprehend its depths. Certain losses, though, are particularly difficult to understand despite knowing we will face trouble this life (John 16:33); specifically the loss of a child.
I have had the privilege of walking alongside a friend who lost her child this year. I won't presume to understand her loss. I haven't walked through it so I cannot fathom it. As a close outsider to it though, I am able to see God in the midst of it. I can clearly see the ways He is reaching down to provide her comfort in the midst of it. None of God's comfort removes the loss but it lives side by side with it.
The bible says:
Blessed are those who mourn, for they will be comforted.

~Matthew 5:4
I used to read this and wonder, why would someone who mourns be called blessed? It doesn't seem like a blessing to mourn. To lose someone or something dear to you is horrible. It is often the worst thing to happen to you. Recently, though, I was able to bear witness to God providing very specific comfort to my friend and her father in the midst of mourning and am able to call them blessed because of it.
My friend Jewels' 10 year-old son passed away June 10, 2019 from cancer. His name was Bailey and he was full of life and loved by all who knew him. Bailey loved Jesus. To sit near him in church was to hear him sing boldly to the God who he loved and who he knew loved him. It was beautiful. His favorite song was "Good Good Father" and he loved to sing it. When he was admitted to Seattle Children's Hospital he was very afraid but said he felt Jesus with him. That gave those around him great comfort because shortly after, he was fully intubated as he was struggling to breathe on his own. Unable to speak, those who visited talked to him, prayed over him, read him books, and sang to him. He loved it when people sang "Good Good Father." As the days went on and he worsened we held on to the fact that he knew Jesus was with him. He was providing him comfort and peace in his mind and heart. On June 9, the doctors told us that the cancer had spread throughout his body and despite their best efforts; he likely wasn't going to make it through the night. His family was called as well as our Pastor. As we waited with Bailey's family, we sang "Good Good Father" over him. Jesus took him home to heaven in the early hours of June 10.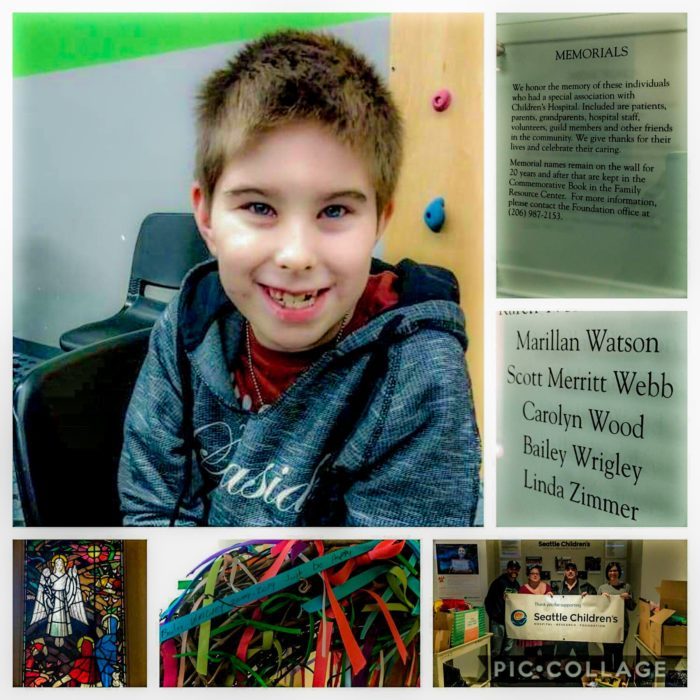 Shortly after Bailey's Celebration of Life, I went to visit the family in their home. Jim, Jewels' dad, mentioned he had Googled the song so he could play in the car to and from work. He found out that Chris Tomlin sings it and that he was coming in concert at the Washington State Fair in Puyallup in September. He immediately bought tickets for me, Jewels, his girlfriend Karen, and himself.
Unbeknownst to the family, I wrote a letter to Chris Tomlin telling him Bailey's story and how much the song means to them, requesting that he play it that night. Unsure of where to send it, I tried a couple different ways including sending it to Spirit 105.3; the Seattle Christian radio station sponsoring the concert but I never heard back.
The day of the concert arrived. On our way we had the privilege of delivering over 600 toys donated in Bailey's honor to Seattle Children's Hospital by children in our community. Not having been back since he passed, it was emotional to return. We were able to visit the Memorial Wall, where Bailey's name will be posted for twenty years as well as the chapel with its beautiful stained glass and book of prayers written by those visiting.
From there, we headed to the fair to spend the day before the concert. Despite off and on rain, we had a wonderful day; walking around laughing, enjoying an acrobatic show, dragon exhibit, getting henna tattoos, seeing baby pigs, and eating fair food.
At one point during the day, I got an email from Spirit 105.3 requesting I call them back as soon as possible. Heart pounding, I stepped away from Jewels and called. Someone at the radio station had received my letter and was moved. They said they would be thrilled to offer Bailey's family VIP passes to meet Chris Tomlin before the concert. While they couldn't promise that he would sing the song, they could offer the opportunity to meet him.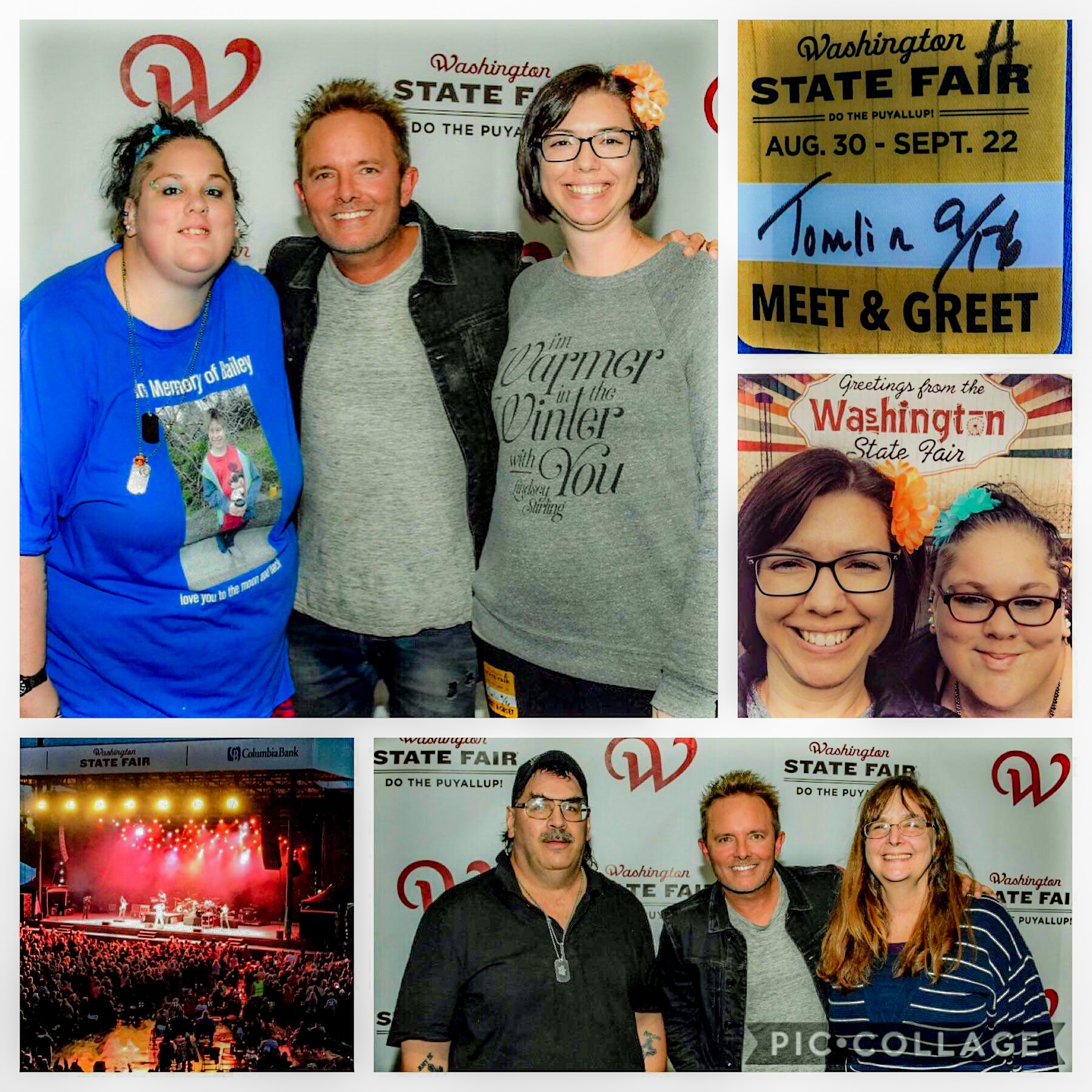 Full of nerves and excitement, we lined up to meet Chris Tomlin and to take a photo with him. The line moved quickly with barely a moment to talk to him. As we got closer, Jewels got more nervous. I asked her what she wanted to say to him; speechless, she asked me to go with her. As she went in for a hug, I leaned in and told him about Bailey, how much "Good Good Father" meant to him and this family, and thanked him for bringing the song into the world. Turning to me with tears in his eyes he went back to Jewels and gave her another hug.
The sky began to clear as we took our seats for the concert. Each time a song would start, Jewels would squeeze my hand wondering if this was going to be "the one." As the concert neared the end, we began to wonder if he would even play it. Finally, at the very end, he did. By that point the clouds parted and a giant full moon shone above the stage. Jewels grabbed my hand tightly as he began to sing. Each of us sat there overcome. Partway through, Jim and Jewels stood up with hands raised and tears rolling down their cheeks singing their hearts out for Bailey. Moved to tears, these words drifted into my mind, "blessed are those who mourn for they will be comforted." Looking at them I could see that they were simultaneously mourning and being comforted. God and Bailey's presence were palpable. It was like they were looking down and smiling on the family they loved so much.
I can see the fingerprints of God in the personal comfort He provided the family that day. It was such a blessing and it was undeniable. Only God could orchestrate such an amazing day. It was particular just for them. It was the first time I fully understood that someone who is mourning could also be called blessed. They lyrics of the song are still true:
"You're a good good Father. It's who you are and I'm loved by you. It's who I am.
Through the grief and pain, God's love is bringing comfort.